The Pursuit of Evolution is the only podcast that goes beyond inspiration to give actions and resources for open-minded folks looking to build their self-trust and be proactive in their personal growth through life-changing moments.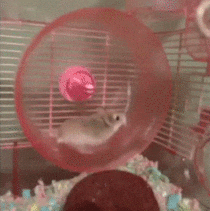 Getting tossed off of the hamster wheel of life it can be scary, frustrating, and lonely.
It can also be an opportunity.
Hang tight! I'm not talking about toxic positivity here. I'm talking about grief and growth. Anger and relief. I'm talking about using this unwanted or unplanned life-changing event as a catalyst for growth.
Welcome to your pursuit of evolution
Whether it's through an unexpected event or a difficult choice we can't put off any longer, there's that moment when the world slows around us, the shit has hit the proverbial fan, and we're left standing there looking at the mess around us.
You have two options: sit in the shit, or start to begin the clean-up.
I'm here for those ready to start cleaning up. Picking up the pieces of our lives isn't easy or quick. Navigating impossible decisions, letting go of people who once were the world to us, letting go of past selves, and seeing what's next and possible.
I'm here to create conversations around these messy moments, help to break the taboo on tough topics and help you navigate through the changes in pursuit of your next best evolution in your life.
I've learned these lessons through my own upheavals. The first time was when I was wounded in a roadside bombing in Iraq at the age of 19. And again, in my mid-30s, after my 4th miscarriage, when my husband and I officially made the decision to stop infertility treatments and live our lives childfree not by choice.
I educate and advocate on the topics of curiosity, resilience, self-trust. I firmly believe there is no one right way to get through this life and I want to help you feel less alone and more in control of your life and what's after the shit-storm is cleaned up.
More about today's guest... Website: www.stonemediasource.com Facebook: https://www.facebook.com/StoneMediaSource/ Instagram: https://www.instagram.com/stonemediasource/ LinkedIn: https://www.linkedin.com/in/souligna-stone-8818b729/ FEATURED IN THIS EPISODESouligna...
I'm a TEDx speaker, writer, and teacher passionate about helping you shift from surviving to thriving.
As an Iraq war veteran and Purple Heart recipient, I have deep value and appreciation for making the most of each day.
Through life experience and a master's in mental health, I've created a unique approach to dealing with life's twists and turns. Hard shit happens. But I know you can not only get through this but build better things on it.